MIDI Guitar Unofficial
Internet Home Page "Classic Page" of Links

since 1995
This page is a resource for MIDI guitarists worldwide.
This site is moving to:

midiguitar.net

please excuse the dust


note: this page contains dated info, updates are in progress




MIDI Guitar Introduction
What is MIDI Guitar? MIDI Guitar lets guitar players play a synthesizer with their guitar.

Why use MIDI Guitar? It lets you expand your playing sound and technique into new areas.

What do I need for MIDI Guitar? You need a Guitar Synthesizer and a matching pickup. Click here for some possibilities. A typical set-up is shown here: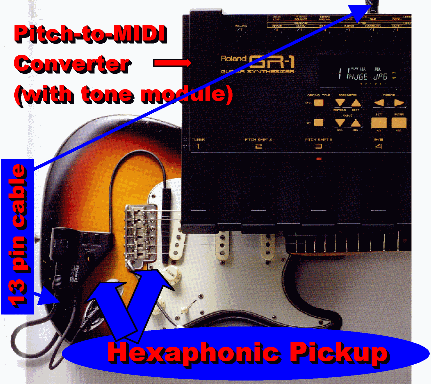 MIDI Guitar Links:
MIDI Guitar presents:

The MIDI Guitar Showcase


The MIDI Guitar Showcase

What you need to do MIDI Guitar (this table answers many of my e-mail questions)



How to do MIDI Guitar CHEAP

MIDI Guitar Pickup Page

MIDI Guitar FAQ
The MIDI Guitar Unofficial Mailing List
Sign up, or mail in your question to midiguitar@egroups.com to get midi-advice:

Warning: do not subscribe to this list unless you would like to be a member of an e-mail discussion group that only discusses MIDI Guitar. There may be 0 - 10 e-mails a day from people of various skill and knowledge levels. If you want to unsubscribe later, follow the directions in your confirmation e-mail.



Send mail to the MIDI Guitar Discussion List (be sure to note if you are not on the list so people know to respond to you as well).

Or, send mail to me
-- I'll try to answer any question or refer you to someone who can.





The MIDI Guitar Axon 100 page

Axon 100 literature (pdf, 239k) and the Axon 100 operator's manual (pdf, 915k)
and now on-line, Axon's US distributor,
Music Industries

Here are two syx file viewers (freeware)(requires Microsoft Excel). You can view and print your patch parameter from a syxex dump file with these:
GR-1 Viewer (109kb) or GR-50 Viewer (17kb) FREE! The GR-1 viewer also documents the syx file format, which was not included in the GR-1 manual.
Joel's favorite GR-1 patches in .syx format download file here. Use the GR-1 patch viewer to see the patch settings, or load the entire syx into your GR-1 (save yours first!). My favorite is #112, Pad PJP.


Digital Guitar Archives, the classic mailing list archive for many years
MIDI Guitar Products
Godin guitar synth-ready guitars w/great reviews. Available at 12 Fret.
RMC Pickup Co. makes bridge pickups for high-quality MIDI guitar retrofits.
Starr Labs (make a great switch-style MIDI guitar)
Axon AX-100 Latest Guitar Interface uses neural nets and transients to speed detection.
Roland Corporation musical instruments list.
SHADOW's
WEB site (WM: still active? they may have discontinued production) . They also make MIDI pickups for Roland and Shadow units, including a MIDI pickup for classical guitar. e-mail Shadow.
The MIDI Guitar Shadow page
SHADOW SH-075 Manual courtesy of Shadow USA on pdf
The VG-8 a resource on Roland's cosmic stomp-box.
GR-30 A non-official page for GR-30 users.
Yamaha G50 guitar interface (made by Axon)
MidiAxe a complete midi guitar system, a nice guitar, converter, midi out, maybe a sound board too. The price range is $3,595 to $3,995 US MSRP including cable, power supply and case.
the G_VOX system a now bankrupt computer guitar interface, aimed at guitar instruction and sequencing. (users report frustration or delight, I've never tried it).
Timtone...the foremost Midi/Custom instrument maker (about 40% of everything we make is midi'd)
Elite Sound
MIDI guitar Player's Page links:
Toubadour Tech midi guitar info as well as tips on being a "one-man-band"; I've used a lot of John's tricks in my set-up.
Jeff has great tips on MIDI Guitar, Sequencing, reviews, and more.
Claude Ciari
Here are some NON-MIDI guitar links:
The Classical Guitar Home Page a nice collection of beginner music and mailing list available
Presto a program to help sort out chords and learn guitar solos
Cakewalk A guitar-friendly sequencer for DOS and Windows. Check out Cakewalk Guitar Studio, specifically designed for MIDI Guitarists!
Standard MIDI Files on the Net An extensive listing of places to download MIDI files.
Synth Zone info on many specific synths
a java chord calculator
Try OLGA, the On-Line Guitar Archive of chords and Tablature for guitar: <! OLGA Search form here>
---
Search the Online Guitar Archive (OLGA)

<! OLGA Search form here>


Note: All links are presented for academic enlightenment. Have fun!

MIDI Guitar Homepage
Towanda PA 18848

page created by:
visit the Joel B. Christian Home Page